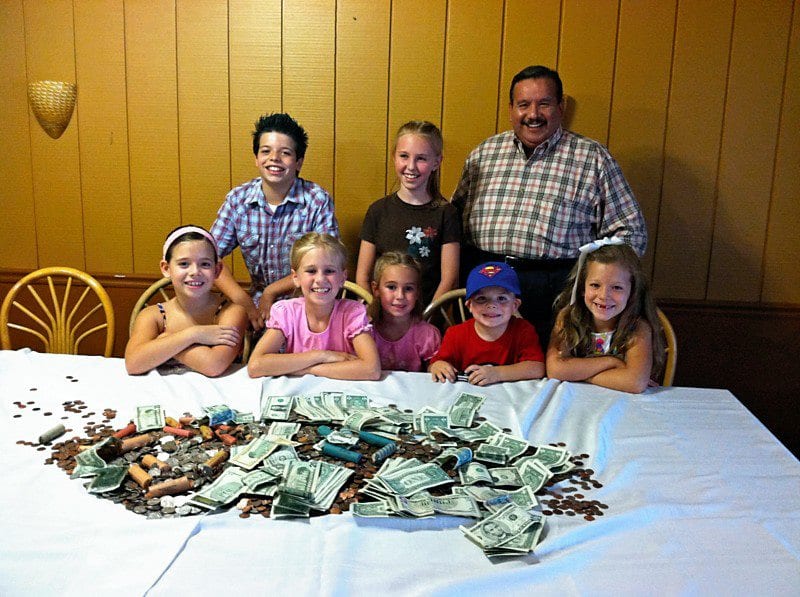 When I first was invited to be part of Kids On A Mission I was extremely excited. A shy sweet little girl named Kaitlin and her adorable younger sisters, Braelyn and Mikayla, were rallying their friends to raise funds for a $75,000 playground to be installed at the Rescue the Children Community. Imagine seeing a group of young kids sharing their passion to provide a playground through selling lemonade, presenting in front of their church congregations, talking to their classmates- the energy among this group was absolutely contagious. The Fresno community rallied behind KOAM and helped us to reach our goal. When the day game in 2013 for the playground to be dedicated, there was such a sense of amazement over how God used a bunch of little kids to reach a big goal.
A few days ago, Kaitlin and I were reflecting on how far God has taken Kids On A Mission since that day. First of all, many of the kiddos involved in the playground project are now much taller. Some are in high-school, a few in college. KOAM is an official non-profit! We have a board of directors and a little office. As some of our kids on a mission have become young adults on a mission, they've been able to pour into the younger kids through leadership training, communication development, devotions, and team-building exercises. Opportunities have been provided for KOAM to share our story with churches, families, and other kids locally and around the world. Thousands of backpacks have been distributed in impoverished areas and water filters and wells have been funded. Two international mission trips were organized through Kids On A Mission!
It's easy to think, wow! Look at those kids! They must be pretty special. But here's the thing… these kids and their families are ordinary families. They face struggles, doubts and the hardships of life. Kaitlin will tell you that she could not lead Kids On A Mission through her own power. It is through the power of God, the leading of His Holy Spirit, and the faith He gives us to do bold things for Him that has driven this organization. Kids On A Mission has had amazing opportunities over the last few years, and it has changed in many ways. Yet we still serve the same God.
So my encouragement to you is to think about your life. Where has God taken you? How has he transformed you? What opportunities has He given you? Sometimes, as we get caught up in the busyness of life, performing seemingly mundane everyday tasks, it's easy to forget to contemplate on these things. As we here at KOAM reflect on what God has done through this organization, the ways in which he has transformed our leaders, and the miraculous opportunities He's given us to share His love…. We can't help but be in awe yet again.
~Ashley Goldsmith KOAM Leadership and Communication Director