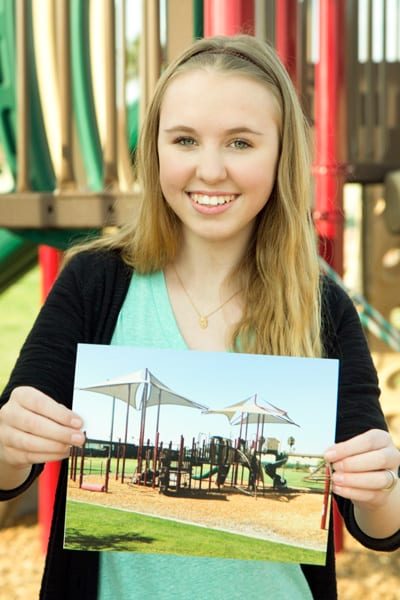 Kids On A Mission began when Kaitlin Riffel was only eight years old.  After visiting the Fresno Rescue Mission (a facility that serves the homeless) and seeing first hand what poverty looks like, she decided to do something to change the lives of the less fortunate in her own community.  With the help of her parents and two younger sisters, she began selling oranges and making small donations to the Fresno Rescue Mission.  Soon after, Kaitlin began inviting many friends to join her in raising $80,000 to build a playground at Rescue the Children (a shelter for women and children).  They did many fundraisers including a Christmas boutique, lemonade stand, bake sale, recycling and so much more.  In 2013 the funds were all raised and the playground was built.
Kaitlin, along with the help of her friends, has also led two teams on mission trips to El Salvador, provided homes and roofs for the less fortunate in El Salvador, led a team of 21 on a mission trip to Costa Rica which included planning and implementing a VBS program for 2 churches along with meals for the kids and their parents, provided zoo passes for local kids in need, and has provided nearly 2000 backpacks for kids locally and in Chicago. She just recently led another mission trip into Costa Rica at the end of 2017 and into the first week of 2018. A team of 24 people went on this trip and were able to bless two different churches in the city of Boca de Arenal with a 3 day VBS program! It was an amazing trip filled with many unforgetful memories. 
Read about our vision to see what Kaitlin's plans are now for Kids On A Mission.